Setup your emails using Mac Mail (if you're hosted by us):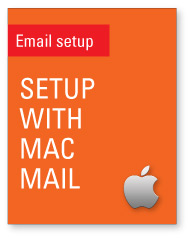 **
Note your Mail Server Information (we will have sent this to you):
Incoming Mail Server: mail.whatever.com
Mail Server Username: whoever@whatever.com
Password: whatever
**
Step 1. Start Mac Mail
Step 2. Go to Preferences, click on Accounts tab, add a new account.
Step 3. Use whatever name you want to be displayed to others and type in the new email address.
Step 4. Don't worry about a password unless you want the extra security on your own computer.
Step 5. Click next and choose POP.
Step 6. Enter details as above (username is your full email address, including stuff after the @)
Step 7. Set your outgoing server to whatever you use for your other accounts (should just be through your normal ISP – like mail.aapt.com.au or mail.bigpond.com).
Step 8. You're done.
Always send a test message (to us or someone else) and get them to send back a message to you. Don't feel confident until you've done this!
Once you've set this up, you might like to keep a copy of your messages on the server for a certain period. This is especially good if you ever use our webmail. You can do this by going to Preferences/Accounts/Advanced, and change 'remove copy from server after retrieving a message' to whatever you want (we recommend one week).
If you've got any questions, please feel free to give us a call or send an email.