Web Editing using Cushy CMS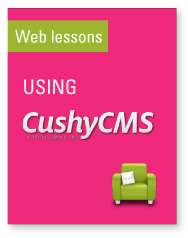 Cushy CMS is a simple but effective content management system. It's quick, intuitive and creates editable regions within a page to make it easy for you and to protect surrounding structural and design elements.
PS – If you're looking for our instructions on WordPress, please click here instead.
Here's how to use it:
Step 1. Go to cushycms.com/sessions/new & enter your details as emailed to you.
Step 2. Click on the page you want to edit.
Step 3. Edit it.
Step 4. Click 'Publish' (bottom of screen).
Step 5. Have a cup of tea, warm in the knowledge you are now a webmaster.
Other points to note:
Don't try to format text too much. It might look a little boring on Cushy, but it will use the beautiful style sheet we've created for you once you publish it. Simply choose 'paragraph' 'heading 1' etc as you need. Please be careful with our designs! To add or edit a link highlight the text and click on the little world symbol with a paperclip on it (well, link symbol), type in the 'www' address and choose 'target' (whether the page opens in a new window or the same window).
Please be very careful when using/editing/adding images. Don't load up a raw file from a camera. The image must be resized and presented for web unless you are sure it is the right size and resolution (72dpi is the web standard). There are plenty of free programs to edit images and size them exactly for the web.
For any structural changes, style sheet updates, image re-working, new pages, complaints or praise, let us know.
Cheers, Step & Stef.